ICCF Africa Asia Zone
Welcome to the ICCF Africa Asia Zone website.

The ICCF (International Correspondence Chess Federation) is the world's governing body for Correspondence Chess.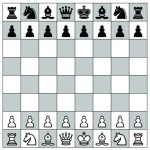 The zone includes the following countries:
Latest News
30/6/2017 – 16th Africa Asia Zone Championship Semi-Finals
The 16th Africa Asia Zone Championship Semi-Finals started 30 June 2017 with two sections of 9 players each. For the first time the Semis are Category K and players can qualify for title norms.
15/5/2017 – 1st Africa Asia Team Championship
The 1st Africa Asia Team Championship started on 15 May 2017 and comprised 14 teams of six players with average ratings as follows: Indonesia A (2223), Indonesia B (2200), Ind1a A (2179), India B (2159), India C (2173), Asian Barbarians (2157), South Africa (2149), African Barbarians (2147), Australia A (2130), Australia B (2126), Australia C (2122), Oceania (2121), ASEAN (1947) and Cape Verde (1857).
30/3/2017 – 1st Interzonal Individual Semi-Finals
Following completion of the 1st Interzonal preliminaries, 52 players are competing in four semi-final groups which started on 30 March 2017. Sitorus (INA) and Jones (AUS) play in Semi-Final A. Glatthaar (RSA), Roebuck (AUS) and Rout (IND) play in Semi-Final B. Litvinenko (KAZ), Chaauhan (IND) and Mulligan (AUS) play in Semi-Final C. Henri (AUS), Fekih (TUN) and Carapinha (CPV) play in Semi D.
30/3/2017 – 9th Interzonal Team Tournament
The 9th Interzonal Team Tournament started on 10 March with thirteen teams of eight players each. We entered three teams: Africa Asia A (Average 2302) – Sasikiran (IND), Prakash (IND), McKenzie (AUS), Sitorus (INA), Jones (AUS), Mulder (AUS), Anand (IND), Gupta (IND);  Africa Asia B (Average 2313) – Dunlop (AUS), Mulligan (AUS), Kumar (IND), Roebuck (AUS), Jenkinson (AUS), Akkaraju IND), Willow (AUS), Tanti (AUS);  Africa Asia C (Average 2278) – Alexeyenko (KAZ), Glathaar (RSA), Carapinha (CPV), Luey (AUS), Fourie (RSA), Egelstaff (AUS), Saxena (IND), Cronje (RSA).
31/1/2017 – Friendly Match against Russia
The first Afro Asia Zone Friendly match against Russia started late last year over 66 boards. See Match
31/1/2017 – 19th Africa Asia Zone Championship
The 19th Africa Asia Zone Individual Championship started on 31 January 2017 with 101 players from 15 countries competing in 14 preliminary groups. The top two players in each group will be joined by seeded players rated over 2250 to compete in the semi-finals which are planned to commece in October 2018.